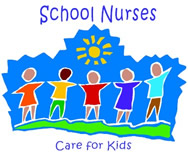 Nurse's Office: (850) 833-4142, option 5
Julie Riffle
Students are not allowed to have any medication in their possession without permission from the school and their physician. Violation of this policy can result in a discipline referral. Please remember that prescriptions must be current. Over-the-counter medications should be unopened, not expired, and must be age appropriate. ALL medications must have a Dispersion of Medication form filled out and on file in the nurse's clinic. Medications that are kept in the nurse's clinic must be brought to school by the parent or guardian. If you have any questions regarding this policy, please call the clinic at 833-4142, option 5. Leave a message and the Nurse will return your call.
Be Ready For Seventh Grade -- Get your Immunizations! -- A reminder to 6th grade parents that your child will need a Tdap vaccinebefore he or she begins 7th grade. These can be obtained privately or at the Okaloosa County Health Department at no charge. Please bring proof of this immunization (on a Florida Certificate of Immunization Form DH680) to the school Front Office so it may be entered in the system before their 7th grade school year.
The CDC and the American Academy of Pediatrics recommend every child continues to receive routine vaccinations during the COVID-19 outbreak.
Vaccines are provided at no cost for children 18 years and younger at DOH-Okaloosa.
Appointments are required. Call 850-833-9246 to schedule an appointment. SEE FLYER HERE • SEE STATE FLYER HERE
221 Hospital Drive NE, Fort Walton Beach • 810 E. James Lee Blvd, Crestview
HealthyOkaloosa.com
All immunizations must be put on a Florida Certificate of Immunization Form 680, which should be available at your health care provider's office. All immunizations from birth to current should be reflected on the updated Certificate Form 680. Please turn this form in to the Guidance Office.
Please Note: Your student's certificate of immunization card must be updated by your medical caregiver -- we cannot do it at the school. You may check with the school and receive a copy of the current immunization record to take with you to your appointment.
Although your child's daily attendance in class is very important to her or his education, please remember that it is important tokeep your child home if they are not feeling well.
It is especially important for them to be kept at home to prevent spreading germs if they have been running a fever, have a sore throat, have been throwing up, or have had diarrhea.
This is for their comfort as much as the wellbeing of the other students at school. For strep throat or pink eye, they must be on an antibiotic for 24 hours before returning to class. For fevers, vomiting & diarrhea it should also be 24 hours from the last episode.

DON'T come to school feeling ill!
Parents and Guardians, keep your student AT HOME if they have ANY of the following symptoms:
Fever greater than 99.9°F - it doesn't matter if the fever comes down using fever-reducing medicines such as ibuprofen or acetaminophen. Controlling the fever does not control the infection!

Vomiting more than once • Diarrhea -

Colds and influenza are the most contagious during the first 48 hours and we ask that you please keep your student AT HOME if they are not feeling well. Thank you for helping keep our students healthy and in school!
Thanks for helping us keep everyone at Ruckel healthy & in school.
Before attending school in Florida (kindergarten through 12th grade), each child must provide a Form DH 680, Florida Certification of Immunization, documenting the following vaccinations:
Public/Non-Public Schools Kindergarten through 12th Grade:
• Four or five doses of diphtheria-tetanus-pertussis (DTaP) vaccine

• Two or three doses of hepatitis B (Hep B) vaccine

• Three, four, or five doses of polio vaccine*

• Two doses of measles-mumps-rubella (MMR) vaccine

• Two doses of varicella vaccine† for kindergarten and grades one through five

• One dose of varicella vaccine† for grades six through twelve

* If the fourth dose of vaccine is administered prior to the fourth birthday, a fifth dose of polio vaccine is required for kindergarten.

†Varicella vaccine is not required if varicella disease is documented by the healthcare provider.
Seventh Grade Requirements:
In addition to kindergarten through 12th grade requirements, students must have the following vaccinations:
• One dose of tetanus-diphtheria-pertussis (Tdap) vaccine in grades seven through eleven
Do your children currently have health insurance?
If the answer is no, Florida KidCare may be the answer.
MyFluSafety.com- Florida State Department of Health
More info at 1-877-352-3581