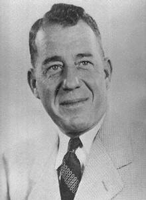 Our school was named after one of the area's most distinguished civic leaders, C.W. "Chuck" Ruckel. Mr. Ruckel was born in 1898. A combat-wounded veteran of WWI, he received the Silver Star for bravery! He donated the land which was used as the location for our middle school.
C.W. Ruckel Middle School is located in the city of Niceville, just off Highway 20. Niceville is a thriving residential community in the panhandle of Florida near the Gulf of Mexico. Our community is home to Eglin Air Force Base, as well as to numerous small businesses and industries including tourism, fishing, retail, and government-related contract work. The local average income and educational level is well above the state and national norms.
We serve attendance areas in Niceville, Rocky Bayou, Swift Creek, and Bluewater Bay. Our excellent academic and extracurricular reputation also draws many students from other communities, such as Fort Walton Beach and Destin, who are able to attend Ruckel by submitting waivers for controlled open enrollment. Check the OCSD Website for availability.
If you would like more information about our school, please feel free to phone us or e-mail us. We would be more than happy to meet with you and discuss the opportunities for your child at our school. Visit Ruckel, the gold standard for excellence in Academics, Arts and Athletics!!