Master Schedule-2023-24 TBA

In order to participate in athletics, students must have their
Sports Participation Forms turned in to the office.
A separate Consent for C3Logix Concussion Baseline Testing form may be downloaded HERE
Boys Soccer Team
Coach: TBD

Girls Soccer Team
Coach: Cagney Valloch
GIRLS 2023-24 Tryout Information
6th grade: Monday, October 23, 2023 • 2:45 to 4:30 pm *CUT WILL BE MADE*
7th & 8th Grade: Tuesday, October 24, 2023 • 2:45 to 4:30 pm *CUT WILL BE MADE*
All who made 1st cuts: Wednesday, October 25, 2023 • 2:45 to 4:30 pm *FINAL CUTS*
Those who are invited for a second showing, the final roster will be posted on the field house/gym door by the next morning.
TRYOUT SIGN-UPS: (you must signup in order to participate):
2023 Ruckel MS Girls Soccer Sign-Up Form
WHAT TO BRING:
Athletic clothes (no club gear)

Soccer socks

Shin guards

Soccer cleats

Water bottle

Do NOT bring any jersey affiliated with any travel or city team

Do not bring any soccer balls. They will be provided by the school
RUCKEL MS GIRLS SOCCER TRYOUT CRITERIA:
Athletic Ability - speed, fitness, quickness, strength and recovery

Technical Ability - ball control, foot skills, passing, shooting and volleying

Attitude and Mental Toughness - desire, coachable, positive and team orientated

Tactical Understanding - vision, on and off the ball movement, anticipation and proper communication
Part of the fitness element will be completing a 1-mile run for time.
Any questions or concerns with regards to the tryout information may be directed to: rmsladyrams@gmail.com.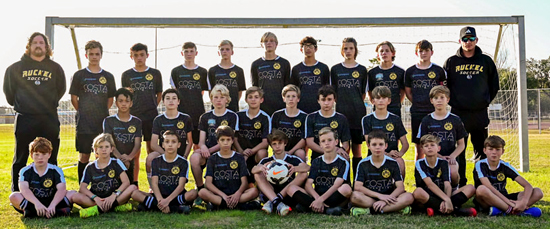 2021-2022 Ruckel Boys Soccer Team