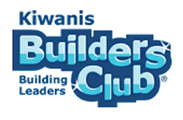 The Builders Club meets two Tuesdays a month
after school in room 303
Builders Club meets on the 1st and 3rd Tuesday of every month after school from 2:30 to 3:30 pm in Mrs. Lennon's classroom #501.
We are a student-led organization sponsored by the Niceville-Valparaiso Kiwanis Club and some of their members regularly attend our meetings.
Contact Mrs. Harvey for more information.
Learn more about the Builders Club HERE