The Okaloosa County School Board approved Kim Sears as the Assistant Principal at Crestview High School and Dr. Zoila Ganuza as the Specialist of Student Services at the August 8, 2022, School Board meeting.
Kim Sears – AP at Crestview

Kimberly Sears has been an Okaloosa County School District educator for 23 years. She graduated from the University of West Florida in 1999 with a degree in Elementary Education and went on to get her master's degree in Ed Leadership and Policy Studies in 2020 at The University of Texas Arlington. Throughout her years with Okaloosa County, she has taught Kindergarten, 1st & 2nd grade, elementary and middle school Physical Education, and served as a Teacher on Special Assignment (TSA) in Guidance. Most of her years were spent at Southside Elementary School and Davidson Middle School, but she also spent some time at Longwood Elementary School, Florosa Elementary School, and Kenwood Elementary School. She has coached Basketball, Tennis, and the Dance team. Kimberly served last year as the TSA in Guidance at Crestview High School.
Kimberly and her husband, Troy, have been married for 16 years. They have four children: Britini (26) and Hunter (22) both recent graduates of the University of West Florida, Trace (20) is currently training as a Combat Controller with the United States Air Force, and Ryder, who is using his ServSafe Certificate as a line cook at The Wild Olive. Her 3 oldest children are graduates of Crestview High School and her youngest is still attending Crestview High School. Sears is very passionate about being a Crestview Bulldog along with her 4 children.
Dr. Zoila Ganuza – Specialist, Student Services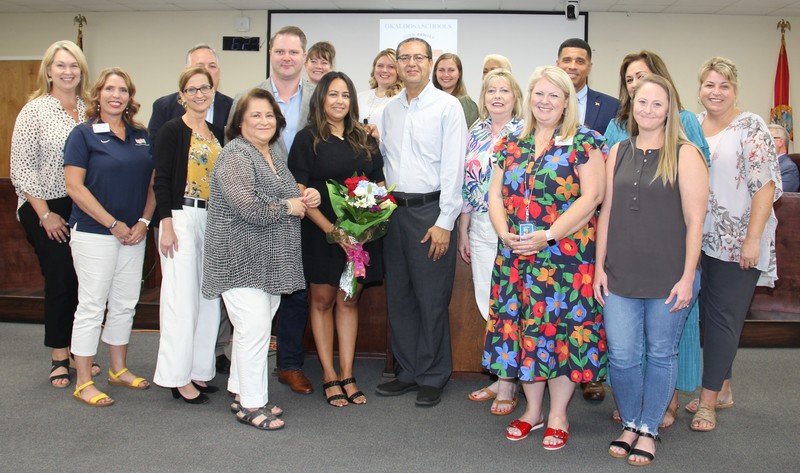 Dr. Zoila Ganuza was born in El Salvador, from where her family immigrated to Minnesota when she was 3 years old. As a result of her parents' sacrifices, Dr. Ganuza received a scholarship to attend a college-preparatory high school, which influenced her acceptance to Beloit College in Wisconsin. In college, Dr. Ganuza played soccer, majored in psychology, and minored in Spanish. After college, she attended the University of Minnesota and earned a Ph.D. in Educational Psychology and specialized in School Psychology and Disability Policy and Services. Dr. Ganuza met her husband, Seth, in Minnesota, and moved to Okaloosa County in 2011, as he enlisted in the Army, after serving four years in the Marine Corps.
Since January 2012, Dr. Ganuza has worked as a Nationally Certified School Psychologist for our school district. In addition to completing bilingual evaluations across the district, over the past 10 years, she has been assigned to Longwood Elementary School, Pryor Middle School, Choctawhatchee High School, Elliott Point Elementary School, Antioch Elementary School, Child Find, Wright Elementary School, and Lewis School. Dr. Ganuza helped develop the first Multi-Tiered Systems of Support (MTSS) manual, has participated in all manual updates, and has trained school counselors, teachers, and administrators on MTSS. Additionally, she has worked with Management Information Systems (MIS) to develop the progress monitoring plans that our district has used to document interventions. Dr. Ganuza has consistently worked with the Exceptional Student Education (ESE) Department to update the process of the identification of disabilities. She has been a board member of the Florida Association of School Psychologists for 5 years, which advocates for the field of school psychology and provides support to districts across Florida on current and new changes to ESE procedures, eligibilities, and statutes.
Dr. Ganuza is excited and ready to enhance MTSS in Okaloosa by supporting school teams, increasing consistency across the district, and ensuring that students are provided with direct and individualized support and/or appropriately evaluated for suspected disabilities.