We love everything about books in the Plew Media Center!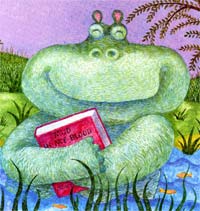 The Plew Media Center is open from 8:30 am to 2:20 pm during the school year. We look forward to seeing you during our operating hours!
Our desire for the Plew Media Center is to inspire a passion for knowledge and a love of reading, to teach students to become skilled users of informational tools, and to assist in the development of life-long learners.
When you check out a book, it is due back the same day the next week. If you borrow it on Monday, it is due the next Monday. If you are not finished with the book, or haven't taken your AR quiz on it yet, you must bring the book back to the Media Center to renew it for another week.
If you have an overdue book, you may not check out another book until the overdue one is returned! If you have a damaged book, it must be paid for before another book will be made available to your reader.
Your library card is your pass to visit the Media Center. Always bring it with you when you come to the Media Center, and be careful not to lose it. Parents may also check out materials from the Media Center. Please see Shawna Crist for more information.
Taking care of library books is VERY important. Students are asked to follow these guidelines for caring for the books they check out from our Media Center.
Never make any marks or color in a library book. Keep your library book away from little brothers or sisters who could mark or damage your library book.

Always use a bookmark. Do not turn down the corner of the page, known as dog-earing, or use a paperclip, pencil, sticky note, etc, to mark your place.

Protect your books from moisture, food, pets, and dirt. Be careful of water bottles, juice boxes, food, and other destructive items in your backpack. To avoid backpack drink/moisture/food damage, you may want to place your child's library book in a ziploc bag. You will be asked to pay for any damaged books.

Report any damage you find in your book as soon as possible.

When you check out a book, you may borow it for one week. If you'd like to borrow it again, you may renew it for a second week.

If your book becomes 4 weeks overdue, it is considered lost and must be paid for at that time. If you find your lost book later, we will gladly refund your money.

If a lost or damaged book needs to be replaced, please do not purchase one from a store. There are more expenses included in the cost of replacing a book, and books must be library-bound.
We're Excited About Story Time at Plew!
Once a week, the kindergarten and first grade students at Plew visit the Media Center for a little time under the tree in our Story Corner.
They gather around to hear either our Media Assistant Shawna Crist, or a parent volunteer read aloud to their class. They learn about the author and illustrator, the setting and characters, the difference between fiction and non-fiction, and new vocabulary words!
We practice polite listening and taking turns while answering, but it's extra fun when the students get to provide sound effects!
Have Your Own Story Time at Home!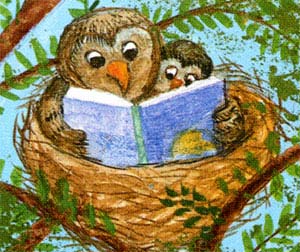 Read aloud to your child, even if they are good independent readers. This shows how important reading is to you and helps extend your child's attention span and increases their comprehension. Reading aloud is an enjoyable life-long learning experience you can share with your family.
If you aren't sure about what to read with your child, their teacher will have suggestions, as well as librarians and booksellers. Reading should be fun and rewarding, and we want you to use and enjoy the Plew Media Center.
The Plew Media Center is open from 8:30 am to 2:20 pm during the school year. We look forward to seeing you during our operating hours!