Plew's vision is to create a community of teachers, students, parents, and community members who value education and who work cooperatively to empower our students to be responsible and productive citizens.
In the spirit of collaboration, the Plew Elementary community empowers students to attain their highest potential through rigorous, differentiated, and child-centered learning.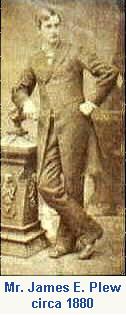 Our school is named in honor one of the area's great pioneers, James E. Plew. Mr. Plew was a physician, aviation enthusiast, businessman, realtor, and inventor. He donated the land that is now Eglin Air Force Base, and his descendants currently attend the school that bears his name.
We are privileged to serve the areas immediately surrounding our facility: the Rocky Bayou neighborhood and surrounding area, plus a significant portion of the Bluewater Bay neighborhood.
If you would like to learn more about our school, please call us. We would be happy to meet with you and discuss the opportunities for your child at Plew Elementary, where we teach our children that "It's What's Inside That Counts!"
Celebrating Over 50 years of Accomplishment and Success
In 1968, the Okaloosa County School Board established James E. Plew Elementary, located on Pine Avenue, just off John Sims Parkway in Niceville. Immediately, the school began to garner prestigious awards and commendations, and our commitment to excellence grows every year.
From the beginning, our families, faculty, staff, and administration have emphasized student academic achievement as our primary mission. Focusing on the needs of students, we have adhered to the rigorous national accrediting standards established by the Southern Association of Colleges and Schools. Plew has been accredited by SACS every year since 1970.
Our faculty is highly credentialed and they regularly participate in extensive professional development opportunities that directly benefit our students.
It has become almost routine to hear of excellent achievement from James E. Plew Elementary. We have been designated as one of the highest performing elementary schools in Florida. In 1998-1999, Florida Education Commissioner Frank Brogan issued Plew Elementary the Florida School Recognition Award. Only schools with a history of superior student achievement scores on national standardized tests are so honored.
In 2003, Plew Elementary was recognized as one of the "Best of the Best" elementary schools in Florida, and we have consistently earned an "A" rating from the Florida Department of Education based on our outstanding scores on the Florida Comprehensive Assessment Test. In 2006, our fourth grade students scored the highest in Florida on the writing portion of the FCAT and our fifth-grade Academic Team took First Place in the state in the Knowledge Master competition. In 2007, the A-Team won First Place in the Southeast for the Thinking Cap competition. The 2007-2008 A-Team took First Place in the state for both Knowledge Master contests and First in the Southeast for Thinking Cap! Wow!
Both strong minds and strong bodies are important. We employ one full-time certified physical education teacher and two PE assistants, enabling us to provide 50 minute PE classes for every grade level. Our physical education program focuses on skills development and physical fitness. Plew students participate in golf, bowling, and track programs. Our paved track has enhanced our fitness program as the students log their weekly miles. The Plew Parent Leader Association also provided a new climbing apparatus for the PE program to promote the development of upper body strength in a fun way.
Every grade level has Art Class and Music class, both taught by certified teachers. Every grade level presents student musical productions throughout the year, involving music, drama and dance.
Our Art program brings the world's masterpieces into the classroom for study and inspiration, serving as a starting point for some wonderful student creations. The focus on the arts culminates in our annual Evening of the Arts in the spring, featuring delightful classroom galleries which showcase our students' artwork.
Chorus is available for fifth graders, with highly-acclaimed concert performances.
Parent and Community Involvement
James E. Plew Elementary is renowned for its exceptional parental involvement and support. Our volunteers regularly log more hours annually than any other school in the county. The Plew Parent Leader Association coordinates a large portion of our volunteer effort, and works closely with the administration and faculty to provide for the needs of the school in ways that maximize the benefit for the students' educational environment.
The campus is currently undergoing a landscaping renovation that is being organized by several talented parents, while others help keep the books in the Media Center flowing smoothly on and off the shelves. Volunteers manage the popular AR Store, where students "shop" for incentives based on the Accelerated Reader points they've earned.
Those parents with a flair for numbers can be found teaching the Smiley Face Math enrichment program to their classrooms on a weekly basis, and volunteers with an artistic interest can be found volunteering.
Away from the classroom, many dedicated volunteers spend hours trimming Box Tops for Education.
Several annual events highlight our calendar and include the community in our activities. Spring brings our Evening of the Arts, an annual showcase and auction of the wonderful artwork our students created. The year finishes up with Field Days, where we cheer ourselves hoarse for everyone in the competition -- especially during the Tug of War!