| | |
| --- | --- |
| Breakfast | |
| Reduced Breakfast | $0.30 |
| Elementary Breakfast | $1.80 |
| Adult Breakfast | $2.25 |
| Milk | $0.65 |
| Lunch | |
| Reduced Lunch | $0.40 |
| Elementary Lunch | $2.70 |
| Adult Lunch | $4.00 |
| Milk | $0.65 |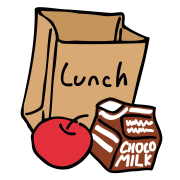 Breakfast is served from 8:00 a.m. until 8:45 a.m. Lunch begins at 11 a.m. each day.

We are required to have a letter signed by your doctor that states any food allergies your child has and any food substitutions that are allowed. A new letter is required each year.

We currently accept both cash and checks to fund your child's lunch/breakfast account. If at all possible, it is preferable that you send a check. We can always track a check in the system. We can't make change for any bills larger than a $20.00. If we receive a larger bill, the full amount will be credited to your child's account.
You may also create an account and pay online through My School Bucks.

Any money that is sent in for your child's lunch account should be clearly marked with his/her name and their homeroom teacher's name. If you know your child's ID number, it is always appreciated.

Please be aware that you may apply for the free or reduced meal program. Do not assume that you are not eligible, as that will be determined based on the information you provide. You should also be aware that you are not automatically approved based on last year's status. Anyone having a free or reduced status at the end of last year will have a "temporary status" to start this school year. If you have not re-applied, this status will expire. Then your child will become a full pay student and you will be responsible for paying for any lunch items they purchase. Free and Reduced applications are available through the school office or online https://www.myschoolapps.com/

Please visit the Okaloosa County School Food Services website for more information and current menus.
We are looking forward to a happy, healthy, and productive school year. Remember, it is difficult to feed the mind without properly feeding the body!