8th Grade trip information has been posted to the class of 2023 google classroom page! Please have your student log in, and check things out! Contact Mrs. Glass with any questions.
Christine.Glass@Okaloosaschools.com
Shoal River Volleyball Presents Pink Night on October 4th vs. St. Mary's JV starts at 5pm / Varsity starts at 6pm Join us in the fight by wearing Pink! Come help us raise proceeds to donate!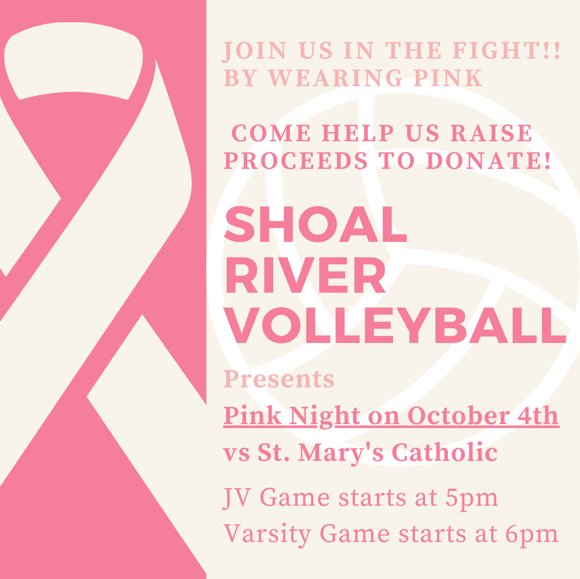 SRMS Spirit Week October 3-7, 2022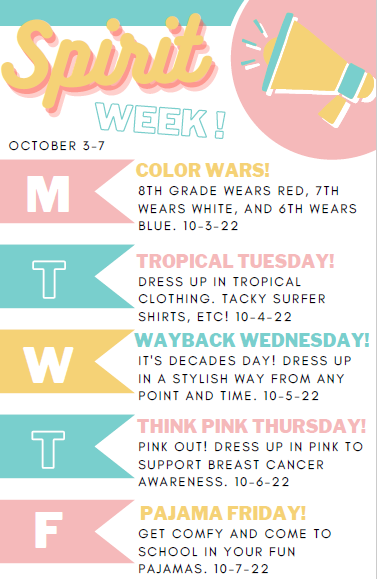 8th grade shirts have arrived! They will go home with your student tomorrow (9/23) during homeroom. We have some extras! First come first serve! They cost $15 dollars and are available from Mrs. Glass in room 811.
Shoal River Girls Soccer 2022-2023 Information Things to know All students MUST fill out a sports participation packet and have a valid sport physical before they can participate in conditioning, student practice, or tryout. Conditioning begins on Monday, 26 September 2022 at 3PM. Conditioning will be from 3 to 4:15pm on Mondays and Wednesdays until the week of tryouts begin. Students need to wear exercise clothes appropriate for the weather and shoes for running. Running shoes and soccer cleats would be the best footwear for conditioning. Students MUST bring their own water bottles. "Student led" practice to give players an opportunity to scrimmage and practice soccer drills as needed. This will happen after conditioning from 4:15 pm to 5:00pm. A coach will be there to observe and maintain safety and discipline. This year's tryouts will be held on Wednesday, 26th October 2022 and Thursday, 27th October 2022. Begin at 3pm on both days and ending at 5pm. Start Practicing on: Ball Dribbling and Control Roll Overs, Pull backs, Toe Taps, Forward Rolls Shooting if you have access to a goal Exercising to get into game shape (i.e. running, biking, jogging etc) YouTube Videos to Assist with Practicing at Home
https://www.youtube.com/watch?v=PCFsyvrcNTY
https://www.youtube.com/watch?v=EY06RqK8zbA
https://www.youtube.com/watch?v=Xfyt7EBvz7c

Okaloosa County Schools start for students on Wednesday, August 10th, 2022.