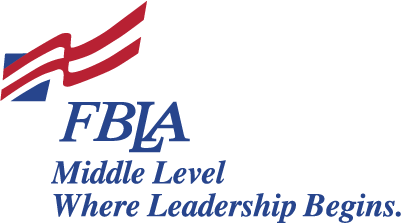 Welcome to the fastest growing division: Future Business Leaders of America-Middle Level. With more than 20,000 members nationwide, FBLA has exploded at junior high and middle schools. Members participate in a variety of activities including job shadow programs, community service projects, and American enterprise projects.

Members even earn recognition on the local, state, and national levels! The Middle Level Achievement Program (MAP) is an individual member program designed to reward those FBLA-Middle Level members who excel in their participation in a variety of activities in the areas of service, education, and leadership. If you are interested in developing leadership, communication, and team skills, or simply looking for an organization to meet and network with others at the local and state levels, then FBLA-Middle Level is the organization for you.
FBLA is the premier organization for students preparing for careers in business. Through FBLA, members gain the competitive edge for career and/or college success. By taking advantage of the many programs FBLA offers, students acquire the skills that set them apart from the average high school student. Members learn through participating in a variety of activities that help them build their skills, while contributing to the improvement of the community in which they live, their school, and their chapter.
FBLA provides the business leaders of tomorrow with the necessary skills to successfully compete in the job market, pursue postsecondary education, or manage personal skills. Members learn how to lead and participate in group discussions by engaging in practical problem solving and decision-making activities. FBLA members learn the value of competition through directed competitive events.
Enhance self-confidence and leadership skills through chapter leadership activities;

Sharpen public speaking skills by leading discussions, presenting workshops, and giving speeches;

Build friendships through chapter team activities and at conferences;

Apply money management techniques by developing chapter and project budgets;

Acquire the skills needed to compete in the job market;

Network with business leaders to increase job prospects and mentoring opportunities;

Participate in conferences and workshops on leadership skills, image, etiquette, time management, goal setting, decision making and career development;

Complete community service activities by working with such organizations as Autism Speaks and the March of Dimes.
It is strongly recommended that students that have taken or is currently taking a business technology course join FBLA to maximize their learning experience and gain a competitive edge. Dues are $35.00 which includes a T-shirt and magazine subscription. If you have any questions, please contact Mrs. Robinson Cook, FBLA Adviser, at Bruner Middle School at 833-3266 or e-mail.
You may also visit Florida's FBLA website or the National FBLA website.
The Officer information is listed below.
FBLA shines at the 2020 District Leadership Conference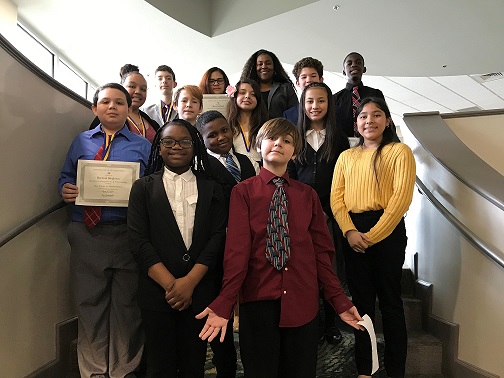 Congratulations to the Future Business Leaders of America (FBLA) students for excelling at the 2020 District Leadership Conference (DLC). All of the students came back as winners. The winners are:
| Student Name | Event | Award |
| --- | --- | --- |
| Mary Gilchrist | Parliamentary Concepts | 1st Place |
| Alexander Pugh | Multi-Media Web Design | 1st Place |
| Alexander Doyle | Intro to Computer Science & Coding | 1st Place |
| Matea Singleton | FBLA Facts | 1st Place |
| Landon Winn | Business Math & Financial Literacy | 3rd Place |
| Herman Singleton | Intro to Computer Science & Coding | 2nd Place |
| Hunter Rohdert | Introduction to Business Communications | 2nd Place |
| Jaynea Mollenhauer | Digital Citizenship | 2nd Place |
| Jaylen Williams | Career Exploration | 5th Place |