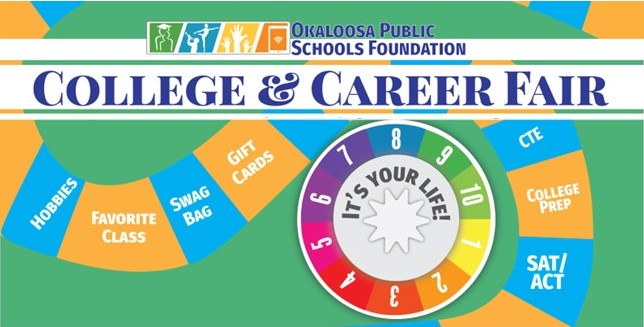 The Okaloosa Public Schools Foundation (OPSF) holds an annual College and Career Fair for high school students. This event brings high school students and many of their parents face-to-face with local businesses, colleges, and military branches. Students hear inspiring and informative presentations that address resume building, interview skills for students, and more. Students are also able to complete a unique interest inventory that identifies careers suited for them.
"The College & Career Fair showcases the best of public education where community leaders, those from our business community, along with the school district, join resources to offer our students avenues for their successful futures. It is an exciting and energizing event for everyone who is a part of it," said Linda Evanchyk, Okaloosa County School Board Member and Member of the Public Schools Foundation Board.
Superintendent Chambers is excited about the Fair and stated that "providing students with choices about their futures is critical. I appreciate the Okaloosa Public Schools Foundation for organizing this event and making sure it was available to all of our high school students."
The College and Career Fair is open to all high school students in Okaloosa County. Attendance wis free, transportation is provided for those who needed it, and all attendees receive breakfast, refreshments, and a to-go box lunch on top of all of the valuable information provided by the speakers and vendors.
Thank you to the sponsors who make this event possible: Beachside Community Church, College Board, CareerSource Okaloosa Walton, COSTA Enterprises, MAG Aerospace, Chick-fil-A, and the Okaloosa County School District.