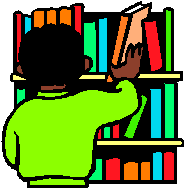 School-Based Media Center Collections
Circulation:
Each student is issued a library card at the beginning of the year following library orientation. Kindergarten and first-grade students may check out one book at a time. Second through 4th graders may check out two books at a time. The circulation period is for one week. Books may be renewed for an additional week but must be brought in and scanned.
Overdue Books:
If a student has an overdue book, additional books will not be checked out until the overdue has been returned or renewed.
Lost/Damaged Books:
It is a student's responsibility to ensure the safety of his or her book. Lost or damaged books must be paid for to reinstate check-out privileges. Please help your child to take good care of his/her library books. Books should be protected from the elements, pets, and younger brothers and sisters. In the event that a lost and paid-for book is found, the cost will be refunded to you.
Parent Section:
Parents, there is also a special section of the library just for you. In the parent section, you will find books and magazines with parenting information.
Accelerated Reader:
Accelerated Reader is a very successful reading program that rewards students with reading quantity and quality. Upon reading a book at his/her reading level, a student then takes a computer test answering questions based on what they have just read. Grade levels are currently engaged in a contest to see which class can accumulate the most AR points. When visiting the school cafeteria you may check out the AR class point totals by looking at the bulletin board with the jets on it.
Scholastic Book Fairs:
At least twice a year, the Media Center hosts a Scholastic Book Fair. There is a large selection of books available for purchase for each member of the family. These books are of great value. We are passionate about reading and hope that your family can be a part of our Book Fair experience. Funds raised from Book Fairs go towards the purchase of new library books.
School Store:
The Media Center also houses the School Store. School supplies such as pencils, sharpeners, crayons, pens, erasers, notebook paper, and folders are available for purchase. The prices range from 10 cents - $2. We also have Science Fair project boards and poster boards for special projects. The Science Fair boards are $5, and the poster board is $1 a sheet. If you are sending money for your child to shop at the store, it is helpful to send it in an envelope earmarked for that purpose. Funds generated from the School Store help to buy supplies and new books for the library.